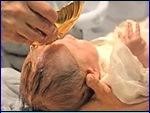 Guidelines for Baptism
The Baptism Preparation Seminar is held on the second Friday of every month from 8:30 am until 10:00 am in the Mini Hall. Parents and Godparents (one pair - one Godmother; one Godfather) must attend the seminar before requesting Baptism of their child. Godparents MUST BE CATHOLICS ( Canon Law : 874.3). No documents are required at the time of the baptism seminar. Prior registration can be done online at this link here.
Baptism for infants is held every Thursday (except Maundy Thursday) at 4:00 pm and Saturday (except Holy Saturday) at 1:00 pm in the Chapel of St. Mary's Catholic Church. Prior registration is NOT required.
NB: BAPTISM SEMINAR FOR THE MONTH OF JUNE 2018 WILL BE ON 1ST FRIDAY.
Documents required for Baptism are:

Photocopy of the Church Marriage Certificate of the parents
Photocopy of the Birth Certificate of the child
Photocopy of the Confirmation Certificates of the Godparents (only one pair)
** All documents are to be submitted on the day of the baptism.